HOLIDAY PINOT NOIR SPECIAL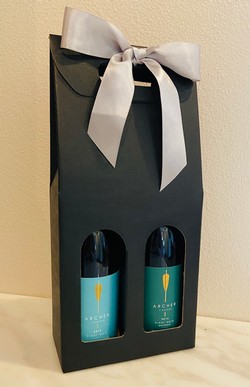 Holiday Gift Set includes two exclusive bottles of Archer Vineyard Pinots
2016 WIllamette Valley Pinot Noir
A beautiful blend of Pinot Noir fruit sourced from vineyards in the Dundee Hills AVA. With hints of cherry and plum and a smooth finish, the mouth feel and texture of this wine tantalizes the palette.
10 months French Oak - Blend of two Wilamette Valley vineyards
Cherry Compote – Dried Lavender - Dust of Earth Finish
Food Pairing: Smoked Salmon – Filet Mignon – Steelhead Trout
2016 Hopewell Pinot Noir
Pinot Noir fruit sourced from a single vineyard in Eola-Amity AVA. With notes of dark fruit, leather; one of our favorites!
Eola-Amity AVA - Palmer Family Vineyard - 10 months in French Oak
Bramble Fruit – Dark Sweet Cherry – with Tobacco Leather Finish
Food Pairing: Pork Chop – Duck Breast- Sword Fish